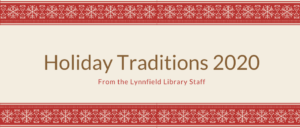 Holiday Traditions from the Lynnfield Library Staff
by Abby Porter, Assistant Director
While this year looks very different from Christmases past, the Lynnfield Library staff is doing our best to make them bright and cheery!  Here's how we are making our usual traditions still happen:
Mary:  My family tradition is serving Cranberry Orange bread during the holidays. It started with Thanksgiving dinners then everyone expected me to bake it for Christmas also. Now I am making it for gifts to the neighbors. Here is recipe:
CRANBERRY ORANGE BREAD
2 cups flour
1 cup sugar
1 1/2 teas baking powder
1 teas salt
1/2 teas baking soda
MIX ALL THE ABOVE IN MEDIUM BOWL
3/4 cup Orange juice
2 tablespoons vegetable oil
2 tablespoons grated Orange peel
1 well beaten egg
STIR ABOVE 4 items into bowl with dry ingredients MIX WELL
1 1/2 cups, about half the 12 oz bag FRESH Cranberries ( chopped then rinsed )
1/2 cups chopped nuts (OPTIONAL)
Gently fold the nuts and berries into the batter. Pour into GREASED loaf pan
Bake in 350 degree oven for 55 or 60 minutes or until toothpick inserted into center of loaf comes out clean. COOL completely before wrapping up (if any left).
It's great for breakfast too, toasted with a little butter.
Barbara K.:  The teddy bear sitting on the child's rocking chair was mine when I was a baby, given to me on my one year birthday. 72 years ago. I had to replace the music box inside it several years ago – it plays 'O' Little Town of Bethlehem.' Otherwise, she is still in very good shape. The  bear comes out every Christmas, a tradition that always makes me smile.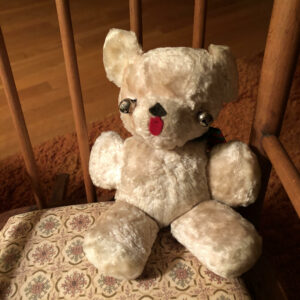 Patty: My mother would make Rosette cookies for Christmas. They do take some time to make, as you can only make one at time! You'll need a Rosette iron(s) and a handle. I make them at Christmas for my family.  Here's the recipe:
Rosette iron & handle

1 c flour

1 c milk

1 egg, unbeaten

1-3 tsp sugar

½ tsp salt



Mix milk, salt, sugar and egg together. Stir slowly into flour, then beat with mixer at medium speed.

Place about 2" of oil in a deep fry pan or saucepan.

Heat to 365֯

Attach Rosette iron to handle

Immerse iron in the hot oil until thoroughly heated

Lift iron out, blot on paper towel, to remove excess oil

Dip iron into batter, until it covers ¾ of the iron. Do not cover entire mold with batter.

Hold the iron in the bowl for a few seconds. Lift it out and shake off any excess batter.

Dip the batter-coated mold into the hot oil.

As soon as the rosette begins to brown slightly, lift the mold and let it drop into the hot oil.

Turn the rosette over for a few seconds.

Use tongs to lift it out and place on paper towels to drain.

When you're done with the Rosettes, drizzle honey and sprinkle powdered sugar on top!
Carolyn:  I love to travel around and photograph holiday lights!  I also watch Hallmark Christmas movies
John:  We will be decorating sugar cookies!
Lauren:  We always eat sushi on New Year's Eve with Prosecco for the adults.  This year, we will Zoom to open presents together.
Samantha:  My family is Italian so we celebrate our version of the Feast of the Seven Fishes:  lobster tomato sauce and stromboli!
Jill:  We always decorate gingerbread houses on Christmas Eve, so we will still be doing that.  Then my family will have a Zoom voting competition on who wins in different categories:  best, funniest, etc.!
Abby:  We did a Zoom Yankee Swap for Hanukkah this year and made latkes with my husband's family.  It was complicated, but fun!  I always make the Flour Bakery brown butter cinnamon rolls for Christmas morning – you can refrigerate them overnight and just pop them in in the morning!  My mom usually gets everyone pajamas for Christmas morning – it's the only present we are allowed to open on Christmas Eve.  This year, we are all also getting a book and, toddler-allowing, we will be reading our books with cocoa in our new jammies on Christmas Eve.  For New Year's, my husband and I make a list of our favorite things that happened in the past year and eat cheese fondue at home.
Kat:  I will be on Zoom with my choir to sing carols virtually!
Ruby:  We also celebrate our version of the Feast of the Seven Fishes with bouillabaisse and shrimp scampi.  Every December, we set up a paper chain and take one off every day to countdown to Christmas.
Pam:  I usually host a big party, so I'm looking forward to a quiet, cozy Christmas reading!
Nathalie:  We always put our shoes in front of the tree and in the morning St. Nicholas has brought oranges and chocolate.
Nicole:  My sister-in-law and I are always in charge of making overnight French toast casserole, so we are just each making it at our own houses.
Marilyn:  We plan, as usual, to cut a tree down and decorate it.  I also usually make my own wreath and lots of cookies.
Jen:  We are planning a family Zoom Christmas photo in matching pajamas with all the extended family.  We also have an accidental tradition of getting P.F. Chang's for Christmas Eve dinner, so I'll be having Crispy Honey Chicken.