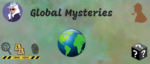 by Katherine Decker
Want to go on a trip without having to get on a plane?  Books can transport us to places around the world from the comfort of our living rooms. So why not check out one of these titles, grab a cup of your favorite beverage and settle into your favorite reading spot for a free trip around the globe.
EUROPE
British – Historical
And Only to Deceive by Tasha Alexander: book
The Sweetness at the Bottom of the Pie by Alan Bradley: book | audio | e-book
Lady Takes the Case by Eliza Casey: book
Rattle His Bones – Carola Dunn: book
Murder in an English Village by Jessica Ellicott: book
The Mitford Murders by Jessica Fellowes: book | large print
Death Comes to the Village by Catherine Lloyd: book | e-book
British – Modern Day
Raven Black by Ann Cleeves: book
The Cracked Spine by Paige Shelton: book
France
Death in Brittany by Jean-Luc Bannalec: book
The Grave Gourmet by Alexander Campion: book
Murder on the Eiffel Tower by Clavde Izner: book
French Pastry Murder by Leslie Meier: book | e-audio
Bruno, Chief of Police by Martin Walker: book
Fatale by Jean-Patrick Manchette: book
Greece
The Pericles Commission by Gary Corby: book
Ireland
Buried in a Bog by Shelia Connolly: book
Murder In an Irish Village by Carlene O'Connor: book | large print | e-book
In the Woods by Tana French: book | e-book | e-audio
Italy
The Terra-Cotta Dog by Andrea Camilleri: book
Nonna Maria and the Case of the Missing Bride by Lorenzo Carcaterra: book
Murder, She Wrote: The Fine Art of Murder by Jessica Fletcher: large print
The Body in the Piazza by Katherine Hall Page: book
ASIA
Japan
The Decagon House Murders by Yukito Ayatsuji: book
Newcomer: A Mystery by Keigo Higashino: book
Murder in the Crooked House by Soji Shimada: book
India
The Case of the Missing Servant by Tarquin Hall: large print
The Bangalore Detectives Club by Harini Nagendra: book
Malaysia
Inspector Singh investigates a most peculiar Malaysian murder by Shamini Flint: book
Philippines
Smaller and Smaller Circles by F. H. Batacan:  book
Singapore
The Frangipani Tree Mystery by Olivia Yu: book
AFRICA
Botswana
The No.1 Ladies Detective Agency by Alexander McCall Smith: book | audio | e-book
Nigeria
My Sister the Serial Killer by Oyinkan Braithwaite: book | e-book | e-audio
OCEANIA
Australia
Flying Too High by Kerry Greenwood: e-book
Death in Daylesford by Kerry Greenwood: e-book
The Dry by Jane Harper: book | audio
New Zealand
A Madness of Sunshine by Nalini Singh:  book | large print | e-book
NORTH AMERICA
Canada
Still Life by Louise Penny: book | large print | e-book
The Unquiet Dead by Ausma Zehanat Khan: book
Don't want to leave the country? Why not travel back in time with these historical mysteries.
United States – historical
Dead Dead Girls by Nekesa Afia: book | large print | e-book
Deception by Gaslight by Kate Belli: book | e-book
Murphy's Law by Rhys Bowen: book
Murder at the Breakers by Alyssa Maxwell: book