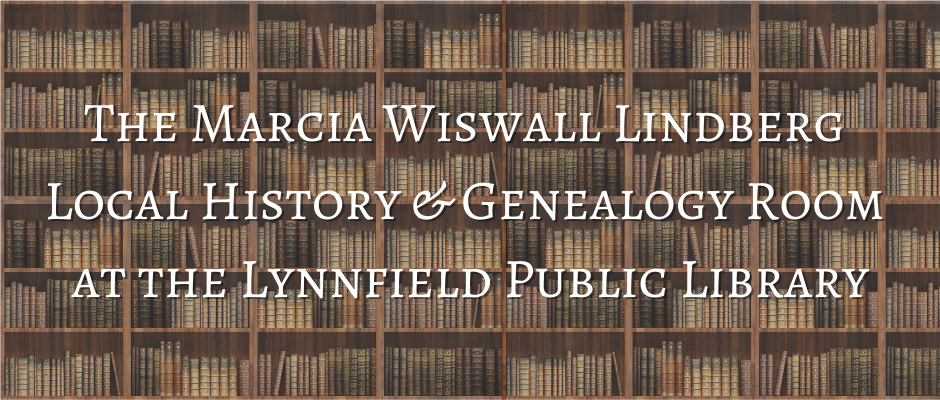 by Pat Kelly, Head of Reference
What can a room that is only 427 square feet hold? How about well over 4,000 catalogued items including family histories, local histories, journals, early deeds, probate records, microfiche & microfilm. And this doesn't include hundreds of uncatalogued individual journal issues, census microfilms, and more.
Where is this treasure-trove located?  Why in the Marcia Wiswall Lindberg Local History & Genealogy Room at the Lynnfield Public Library!  This collection is maintained by the Essex Society of Genealogists (ESOG) and the Lynnfield Public Library.  It is difficult to overemphasize the importance of this collection to genealogists and local historians.  We have had patrons visit from across the country to research their Essex County ancestors: visiting the Marcia Wiswall Lindberg Local History & Genealogy Room is on many a genealogist's bucket list! 
In addition to a concentration on Essex County and Massachusetts, the collection has robust resources on other New England states, New York, Quebec, and the Canadian Maritime provinces. Some of the unique resources contained in this collection include: Mayflower Families Through Five Generations (affectionately known as the "Silver Books"); a complete set of the Vital Records to 1850 for Massachusetts towns (the so-called 'Tan Books'); hundreds of individual family histories in book format as well as microfiche; The Search for Missing Friends: Irish Immigrant Advertisements Placed in the Boston Pilot; and The Barbour Collection of Connecticut Town Vital Records. The collection also contains many of Robert Charles Anderson's Great Migration Series published by The New England Historic Genealogical Society as well as hundreds of individual family histories in book format as well as microfiche. There is a large collection of journals and periodicals, such as volumes of The Essex Genealogist, the NEHGS Register (back to 1847), The Connecticut Nutmegger, and the Cape Cod Genealogical Society Bulletin. 
The room also contains a Lynnfield local history collection of both published and hand written materials.  Some of these irreplaceable materials include: Dana Sweetser's 3 volume Main Street Cemetery Inscriptions (also digitized) and Lynnfield, Mass.: Violence, Local Definitions, Geographic Names, Cemetery Inscriptions, Historical Lynnfield; Lynnfield's Gold Star Servicemen: World War II, Korea, Vietnam.
Add in oral histories (both digitized and on CD), Essex County deeds on microfilm, state and federal censuses on microfilm… and we have a collection that is almost overwhelming in its depth and breadth.
And we can't overlook our new, state of the art microform reader! The ViewScan unit can be used with microfilm, microfiche, and 35 mm slides in black & white or color.  Images can be viewed, enlarged, and edited, printed, saved to thumb drives or emailed.  The library also has a subscription to Ancestry.com for in-library use which can be accessed at our nine Internet terminals in the Main Reading Room. And best of all, at least one day a week – usually on Wednesdays 10am -2pm –  volunteers from the Essex Society of Genealogists are on hand to help patrons utilize the available resources or to lend a helping hand with family research. (And save you from having to purchase expensive memberships in various on-line societies.) Please come to the Lynnfield Library genealogy room to research: whether you are beginner or an experienced genealogist! 
If you would like to take the ViewScan microform reader for a 'spin,' please contact Pat Kelly at 781-334-5411 or kelly@noblenet.org.