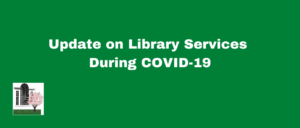 February Library Service Update
It's hard to believe that we're nearing a year from when the library first "closed" because of the pandemic. With one day's notice, we shifted from in-person collaboration to work-from-home situations, and dramatically changed our model of service to make sure that Lynnfield residents could still have excellent programs, accurate reference assistance, and the ability to borrow materials, even if only digitally at the beginning.
Look how far we've come! We are seeing more and more of you at our expanded Front Door Service, which is now offered five days a week, and we have appointments available for computer/photocopier/scanner use in the Library three days a week. Staff are in the Library fifty hours a week to help you! Even though we can't all hang out together in the building right now, we've tried hard to keep connecting with you virtually and at the Front Door.
We are remaining vigilant and firm in asking for social distancing and mask wearing when you come to the Library, even if it's just to pick up items. In addition, if you are entering the building for computer appointments, we ask you to either wash your hands or use hand sanitizer. All materials returned to the Library go into quarantine prior to check-in for at least five days, so be aware that items may stay on your library account after you have returned them.
Here are a variety of offerings available at the Lynnfield Public Library:
Front Door Service to pick up holds is available 5 days a week.
We have a new collection of jigsaw puzzles that you can borrow!
Need ideas or want surprises at your pick up? Let us know and we can pull together materials on a topic (New mysteries? Kids graphic novels? Travel DVDs?) and get them for you.
Maybe you'll happen upon a fun StoryWalkⓇ and get to read a picture book outside on Arlington Street. It will be a happy surprise because they're not up all the time! For more fun, twice a month kids can grab a craft kit to take home during Saturday morning's Front Door Service. (Adults, you can craft too – the opposite weeks!)
We increased digital materials for you to use from home, including, ebooks, audiobooks, online learning, movies and music, and newspapers.
We're adding Mango Languages so you can learn a language from home – maybe to go along with your travel DVDs?
We're also starting to circulate Chromebook Kits, which are a Chromebook and a hot spot, so you can take a computer home and access all of these resources. Our staff will love to help you get this set up.
If you don't yet have a library card, we can issue you a temporary one so you don't need to come to the Library right now. You can either call us at 781-334-5411 or email us at lfdcirc@noblenet.org and give us your name, address, phone, birthdate and email address. We'll send you a library card number. You can pick up your permanent card later!
Aside from appointments to use our computers, scanners, and photocopiers, we are happy to print items (including tax forms!) (including tax forms!) for you that you can pick up at Front Door Service. Contact our Reference staff at lfd@noblenet.org or call 781-334-5411 for more details.
We're also happy to walk you through using your technology devices at home – just give us a call or email us at the above number and we'll get you help from one of our librarians.
Lastly, we're also doing a wide variety of online programming so you can still connect with us, and your neighbors during this strange time. We have book groups, yoga classes, lectures, magicians, craft tutorials, cooking demonstrations, and so much more. Check out what's being offered on our online calendar.
Follow us on social media, check out the website, or give us a call. We'd love to stay connected with you. We miss you!
Jennifer Inglis, Library Director
781-334-5411