Digital Magazines on Libby  
By Nicole Goolishian, Head of Technical Services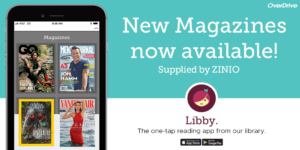 With your library card, Libby provides access to free eAudiobooks and eBooks but did you know Libby also has a digital magazine collection? It's true! Libby offers thousands of digital magazine titles with an eclectic range of subjects including: 
There are also titles available for children including National Geographic Kids and Highlights.
You can borrow an unlimited number of magazines and they do not count against the number of titles you have checked out at one time through Libby. Magazines can be borrowed for up to 14 days and are always available, meaning you never have to wait in line for the newest issue of your favorite magazine! 
If you like to use your computer to access library databases, we recommend using the OverDrive website to borrow digital magazines. For more information on downloading and signing up for the free Libby app on iOS or Android devices, please check out our instructions page here. 
Do you prefer reading physical magazines? We have over 90 physical magazine subscriptions in our collection as well! You can search our catalog online to see what magazine titles we have and then give our Reference Desk a call and staff can place a specific issue on hold for you to pick-up during Front Door Service. 
We are here to help! Call the library at 781-334-5411 or e-mail our Reference staff at lfd@noblenet.org. 
Please note that in February 2021, RBdigital Magazines (formerly Zinio) moved to OverDrive.
All your favorite RBdigital titles are now available on OverDrive and the Libby app.