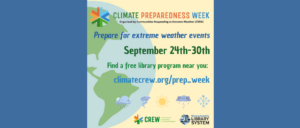 Climate Preparedness Week
by Abby Porter, Director
The Lynnfield Public Library is a Climate Resilience Hub through CREW, which stands for Climates Responding to Extreme Weather. What does this mean? As climate change makes extreme weather worse and less predictable, emergency services are increasingly overstretched. Climate Resilience Hubs help prepare residents before emergencies strike, so that residents are equipped and know what to do. In addition to sharing important information about emergency preparedness, the Lynnfield Public Library is also a cooling center in the summer and a heating center in the winter. To see more resources, visit our Climate Resilience Hub page.
Since 2018, CREW has been holding Climate Preparedness Week in September. This year, from September 24-30, Climate Resilience Hubs around the country will be holding events and sharing information to better prepare their communities for natural disasters. Check out our calendar to learn more about our upcoming climate-related events during September and October, including The Caterpillar Lab, an Author Talk with Samantha Montano, and a lecture on Climate Justice with Nia Keith of the Mass Audubon Society. You can also find great resources at the Library to help prepare your home, family, and neighborhood for major climate events. Below, we are sharing some helpful books recommended by CREW. Review the list here or stop by the Lynnfield Public Library to see the display in person.
Have a climate-related topic you'd like to learn more about? Let us know! Please email lfd@noblenet.org or call 781.334.5411 with any questions or visit www.lynnfieldlibrary.org to learn more. Learn more about CREW at https://www.climatecrew.org/.
Moving to High Ground: Rising Sea Level and the Path Forward by John Englander
The Water Will Come: Rising Seas, Sinking Cities, and the Remaking of the Civilized World by Jeff Goodell
Warmth: Coming of Age at the End of the World by Daniel Sherrell
On Fire: the (Burning) Case for a Green New Deal by Naomi Klein
Climate Justice: Hope, Resilience, and the Fight for a Sustainable Future by Mary Robinson with Caitríona Palmer
The Uninhabitable Earth: Life After Warming by David Wallace-Wells
Inconspicuous Consumption: the Environmental Impact You Don't Know You Have by Tatiana Schlossberg
Food Fix: How to Save Our Health, Our Economy, Our Communities, and Our Planet– One Bite at a Time by Mark Hyman
Heat Wave: A Social Autopsy of Disaster in Chicago by Eric Klinenberg
What Can I Do? My Path from Climate Despair to Action by Jane Fonda
Book
Are We Screwed? How a New Generation is Fighting to Survive Climate Change by Geoff Dembicki
The End of Ice: Bearing Witness and Finding Meaning in the Path of Climate Disruption by Dahr Jamail
Fire and Flood: a True History of the Epic Failure to Confront the Climate Crisis–and Our Narrow Path from Here by Eugene Linden
Book
How to Prepare for Climate Change: A Practical Guide to Surviving the Chaos by David Pogue
Book | eBook | CD Audiobook
Islands of Abandonment: Life in the Post-Human Landscape by Cal Flynn
Book
Guardians of the Trees: A Journey of Hope Through Healing the Planet by Kinari Webb
Eat Like a Fish: My Adventures as a Fisherman Turned Restorative Ocean Farmer by Bren Smith
Book
Nature's Best Hope: A New Approach to Conservation that Starts in Your Yard by Douglas Tallamy
Book | eBook | eAudiobook