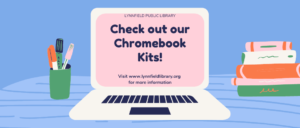 Borrow the Internet From Your Library 
By Nicole Goolishian, Head of Technical Services 
The Lynnfield Public Library is excited to announce Chromebook Kits are joining our circulating collection beginning Wednesday February 10th!
A Chromebook Kit consists of 1 Chromebook laptop, 1 hot spot, and 1 computer mouse to  provide you with Wi-Fi and computer access from home. A Chromebook is a basic laptop preloaded with the Google Chrome web browser and Google Workspace. Through Google Chrome you can access the Internet and with Google Workspace you can create documents, presentations, or spreadsheets for work, school, or personal use.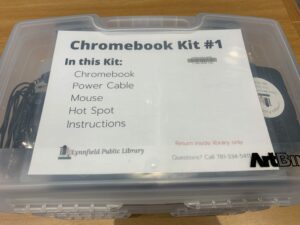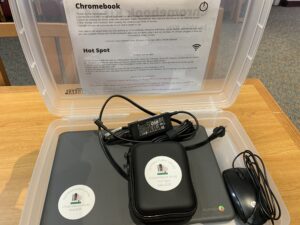 If you do not have Internet access at home or in your workspace, the hot spot included in each Kit provides wireless access to the included Chromebook laptop. Instructions for connecting the Chromebook to the provided hot spot are also included in each Kit.
Access to technology is vital and at the Lynnfield Library we want to provide more options to our users who may not have access to a computer or the Internet. The creation of these Kits was in direct response to a need in our community for more equitable access to the Internet during a time when such access is essential.
At this time, Chromebook Kits must be picked up and returned to the Lynnfield Public Library by appointment either during Front Door Service or a computer appointment. One Chromebook Kit may be borrowed per library card for up to two weeks.
To place a Chromebook Kit on hold, please call the library at 781-334-5411, e-mail lfd@noblenet.org, or place hold directly through the NOBLE catalog. Our current hours are Monday, Tuesday, Thursday 9:00am-7:00pm, Wednesday and Friday 9:00am-5:00pm, and Saturdays 9:00am-1:00pm. Staff are available at these times to answer your questions.
For more information on Chromebook Kits please click here.