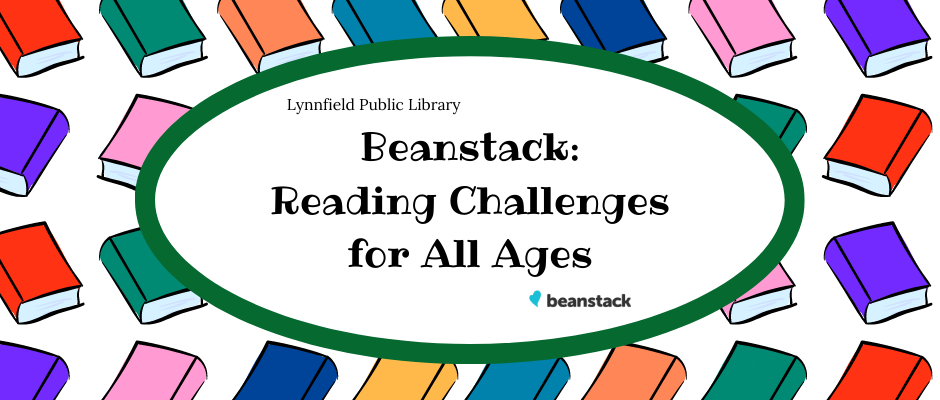 by Lauren Fox, Head of Youth Services
Have you heard about the new reading challenge program at the Lynnfield Library? It's called Beanstack, and by using it, you can earn badges and prizes for the books you read! Beanstack is an online program where you can track reading and write book reviews as you participate in a variety of challenges. Libraries across the country use Beanstack for their Summer Reading programs as well as other challenges throughout the year, and it's completely free for our patrons to sign up and participate.
One reading challenge you may be familiar with is Summer Reading. Every year, kids, teens, and adults are invited to participate in our Summer Reading challenge. Do you remember last year's animal themed game board outside of the children's room? That was part of our Summer Reading program! This year, you can track your books on Beanstack rather than on paper. Prefer paper? No problem – you'll be able to use paper in addition to Beanstack. More on Summer Reading coming soon!
In the meantime, we have other challenges for you to participate in. Our first challenge on Beanstack is called 1,000 Books Before Kindergarten. You may think that's a lot, but it actually comes out to less than a book a day before a child turns five. Reading to children is so important to their early literacy development, and if you bring your kids to the library a lot, they may have already met this goal. When you're tracking books for this challenge, you can include books your kids read before signing up – so if they've already read hundreds of books, feel free to count those. You can also count a book every time they read it. You might find that reaching 1,000 is a lot easier than you think! They'll earn badges along the way, and when they reach the goal, you can come to the library to pick out a free book to keep.
We'll have other challenges coming soon for readers of all ages, including older children, teens, and adults. Even if there's no challenge for you to participate in yet, you can sign up for Beanstack so you're ready when there is. There are two ways to register. The first is on the website. Head to our Beanstack page at lynnfieldlibrary.beanstack.org and click "Register an Individual or Family." Follow the steps to register. You can also use the app. Download "Beanstack Tracker" on your phone or tablet. Click "Let's go" and then "At my library, school, or bookstore" and "Find a site." Search for Lynnfield, click on Lynnfield Public Library (MA), and then click "Sign up" and create your account. Summer Reading challenges for all ages will start on June 29, so keep an eye out for those!
On both the website and the app, you can sign up just one person or multiple readers on one account. This is great for parents who have kids who won't be tracking their own books yet. You can sign into just one account to log books for yourself and your children. When they're old enough, they'll be able to switch to their own account. Once you have an account, you can use both the website and the app to track your books.
Interested in more information about how to register for and use Beanstack? Email our youth services librarians at lfdyouth@noblenet.org or head into the library and pick up a brochure with everything you need to get started on Beanstack. We're looking forward to having you join us for all of our future reading challenges!