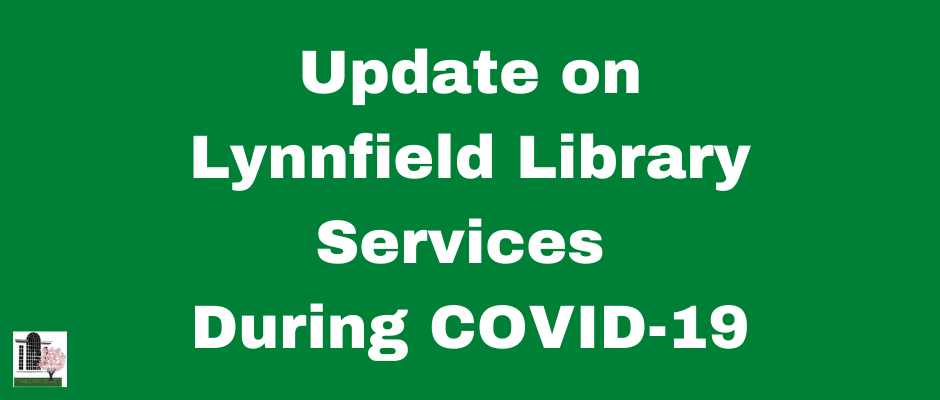 by Jen Inglis, Director
The Lynnfield Public Library is pleased to announce that effective April 5, 2021, patrons will be able to browse most of the library collections, visit the Children's Room and the Genealogy Room, and use the computers, scanner, and photocopier. Initially, services will be by appointment only, and patrons are asked to adhere to the following requirements:
Properly worn masks are required for all visitors.
Outdoor service will be provided as a Reasonable Accommodation for people who cannot wear masks.
Hand sanitizer (or immediate hand washing) is required upon entry.
Visits are by appointment only and are limited to one (1) 45-minute slot per day. We ask that if you are done earlier that you leave promptly.
Please adhere to occupancy limits established in each area and follow all directional signage.
Continue to maintain physical distancing of at least 6 feet between parties, including library staff.
Beginning March 31, 2021, appointments can be made online on the Library's calendar or by calling 781-334-5411. Front Door service will continue on three days for those patrons who prefer not to come into the Library, and we have designated hours for senior citizens and people with health concerns.
Until we have replaced our beloved Miss Pam, who retired in January, appointments to use the Children's Room will be limited to Monday and Friday afternoons and Wednesday mornings. All kids using the Children's Room need to be accompanied by a parent or guardian, and children over the age of two need to wear masks. Unmasked children under the age of two need to be in a car seat, stroller, or held/worn by the adult at all times during the visit. Please note that there are no toys, art supplies, or items for play in the Children's Room – visits are restricted to borrowing materials only.
Middle-schoolers and high schoolers using the Young Adult area are welcome to make a general browsing appointment or contact Lauren at lfox@noblenet.org.
Appointment Schedule: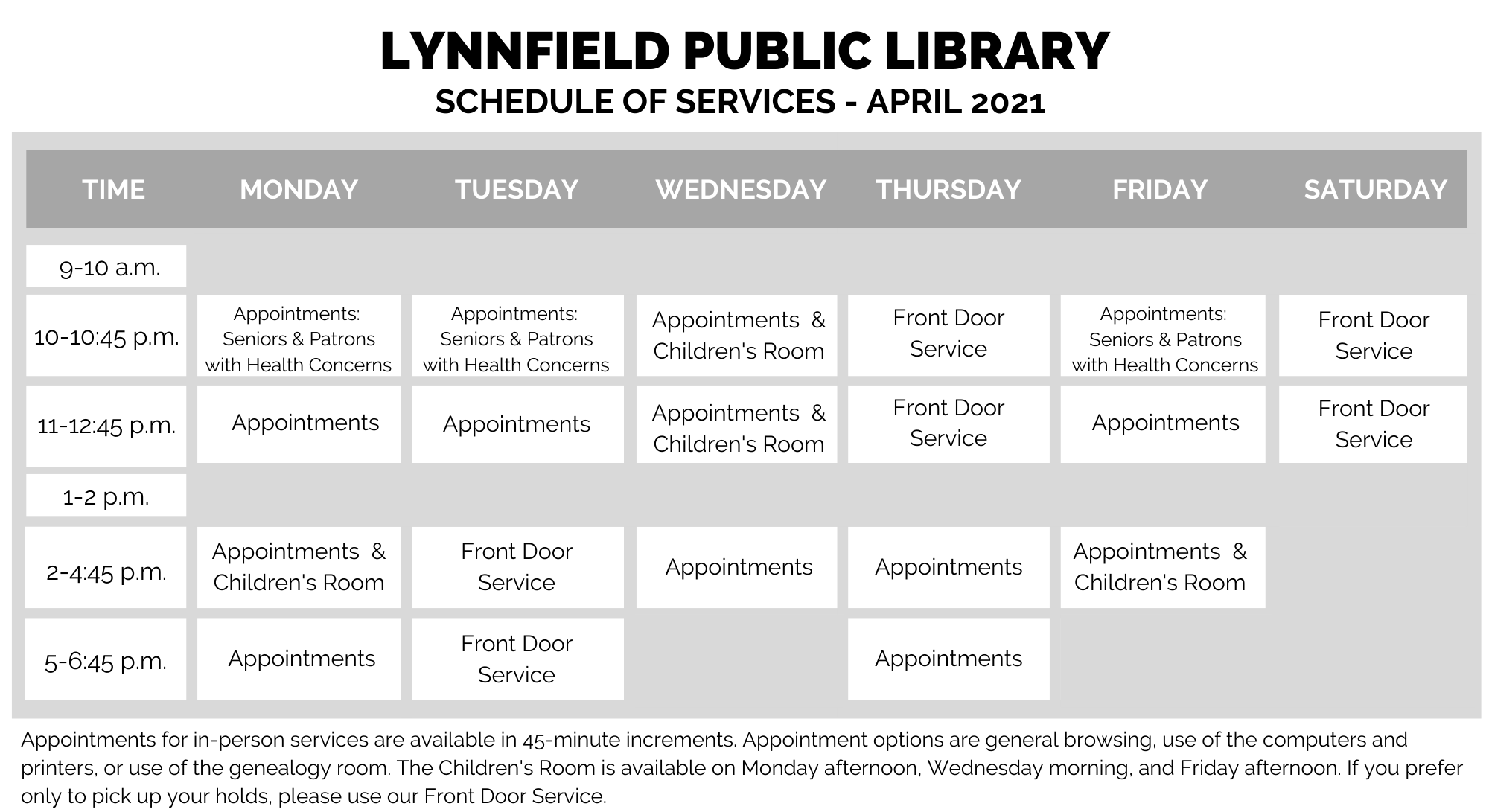 During your visit:
When you arrive for your appointment, please be mindful of other patrons entering or exiting the building. Check in at the desk near the entrance, where you will get directional information from library staff. A record of your appointment will be kept for three weeks to assist in Contact Tracing if that becomes necessary.
If you make a browsing appointment, all areas of the library are open to you with the following exceptions: the Children's Room, Genealogy Room, and public computers, which need to be scheduled separately. The Mezzanine is also off limits because it is now used as a staff work space and for storage. If you need materials from the Mezzanine Level, you can request them at the Reference Desk and items will be retrieved for you. In addition, any area blocked off by ropes, signage, or other means are off limits. Most seating has been removed.
Directional and informational signage, as well as occupancy limits for various spaces, can be found throughout the building. Please pay attention to where you are standing in relation to staff and other patrons, and keep at least six feet away from others. If any of the signage is unclear, staff at any of the service desks can help you. As you check out your materials, please stand where directed and leave promptly. We have really missed you, but we can't have prolonged conversations just yet.
Please note that the Library may need to close at short notice because of staff shortages due to illness or quarantine periods. We also will need to close if we are notified of a positive COVID-19 case in close contact. We will post the closure information on social media, the library doors (if possible), and our website. If you have any concerns, please call ahead of your visit.
Other information:
Due to our lack of meeting space in the Library, programming will continue to be virtual until we can come up with an alternative that allows us to be spaced apart. We are looking forward to having activities outside this summer!
We continue to quarantine materials when they are returned, and we are required to quarantine items that you touch during your visit if you don't end up borrowing them. Please use the red quarantine bins that are in various locations in the Library. The outdoor book return is available after hours. Items will remain on your account until the quarantine period (currently 72 hours for returned items) is over.
We can't wait to see you in person soon! Thank you for all of your support.