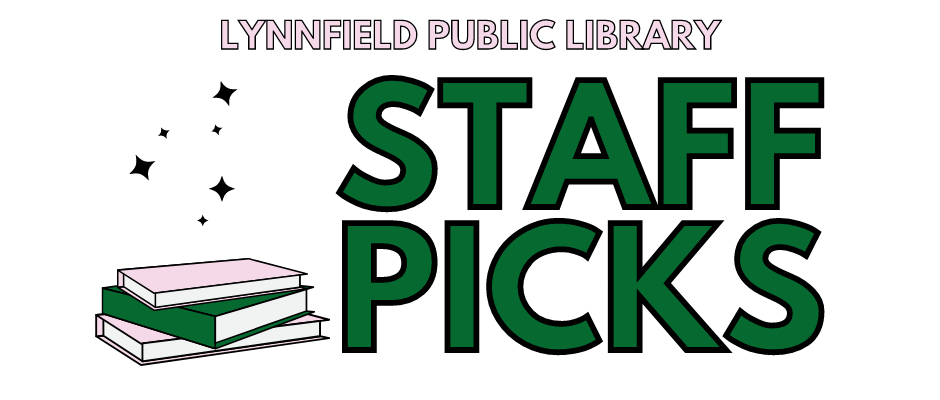 by Samantha Totman and Katherine Decker
Our April picks are in! From graphic novels to TV shows to cozy mystery series, we've got something for everyone.
You can place holds on these by clicking the links below, or you can find them in the Library by looking for the green Staff Picks label!
Abby, Interim Director & Head of Adult Services
Wet Leg by Wet Leg
CD
I've been looking forward to this album since I heard "Chaise Longue" months ago. Every song is a bop!
The True Queen by Zen Cho
Book
I devoured Sorcerer to the Crown, the first book in this series, and the sequel did not disappoint. Jane Austen manners, evil fairies, romance, intrigue, and mysterious curses – The True Queen has everything I could want in a book!
Alex, Youth Services
Fullmetal Alchemist by Hiromu Arakawa
Book
Barbara, Reference
Braiding Sweetgrass: Indigenous Wisdom, Scientific Knowledge, and the Teaching of Plants by Robin Wall Kimmerer
Book | eBook | CD Audiobook | eAudiobook
A member of the Citizen Potawatomi Nation and SUNY professor of Environmental Biology, Kimmerer believes that plants are important teachers to help us broaden our ecological understanding of our world and what must be done to protect its future. I listened to the audiobook version beautifully read by the author. A challenging and thoughtful read for those concerned about the future of our environment.
The Cartographers by Peng Shepherd
Book | eBook
Described as a thriller by some and speculative fiction by others, this enjoyable read tells the story of a group of friends who met in college where they studied cartography and became aware of a rare gas station map within which shows the way to find a town that does not exist. The only copy left and the reason for several murders belonged to the father of one of the students, the Head of the Cartography Collection at the NYPL, which was found upon his death and the reason for the estranged relationship between them years prior to his death. Science, art and obsession combine to make this a very enjoyable read.
The Great Passion by James Runcie
Book
In 1727 Stefan Silbermann is sent to a school in Leipzig upon the death of his mother while his father deals with his grief. Bullied by other students Stefan's life is made easier when the school's cantor, Johann Sebastian Bach, brings him into the choir as a soloist and engages him as his copyist while Bach composes the St. Matthew Passion. Stefan's grief is assuaged by this relationship and his understanding of Bach's creativity and the role of music in one's life.
Grey Bees by Andrey Kurkov
Book
Wanting a better understanding of life in Ukraine I found this novel by a Ukrainian author, dubbed by some as the Ukrainian Murakami. Since Murakami is a favorite author of mine, I knew I had to read this book. Sergei Sergeyich, a retired safety inspector turned beekeeper, lives in the Grey Zone in a small village of only three streets within which the sounds of bombing from other areas of Ukraine is regularly heard. As spring approaches Sergei knows he must take his bees away from the Grey Zone so they can gather their pollen in a more peaceful place. During this journey he is introduced to combatants and civilians on both sides of the conflict expanding Sergei's understanding of both himself and others in his country.
Katherine, Head of Circulation
Check, Please! Book 1: #Hockey by Ngozi Ukazu – YA Graphic Novel
Book |  eBook
Sadie on a Plate by Amanda Elliot – Romance
Book
Up to No Gouda by Linda Reilly – Cozy Mystery
Book  | eBook | eAudiobook
Kathe, Reference
The Eyes of Tammy Faye
DVD
An intimate look at the extraordinary rise, fall, and redemption of televangelist Tammy Faye Bakker. It's funny, it's sad, it's even timely…Jessica Chastain is great in this movie!
Kristen, Youth Services
Heartstopper Vol. 1 by Alice Oseman
Book | eBook
Spencer, Head of Tech Services
Ghosts
DVD
This show is absolutely hilarious. A woman inherits a huge, rotting mansion in the British countryside from a (very) distant relative. After a near-death experience, she realizes that she can see the 10+ ghosts that have "lived" in the house for years! The characters are wonderful and the dialogue is hilarious. It can also be poignant as we learn the ghosts' backstories. There is also an American show on CBS based on this show.
The Space Between Worlds
by Micaiah Johnson
Book
  |
eBook
| 
eAudiobook
Cara works for a corporation that has unlocked the secrets of multiverse travel. The catch–you can only travel to universes where you're already dead. Cara traverses across worlds until she uncovers a dangerous secret and becomes caught up in a conspiracy on her own world. I loved the concept of this book and liked the characters, especially Cara. This was a fun adventure with plenty of quippy dialogue and current social commentary.