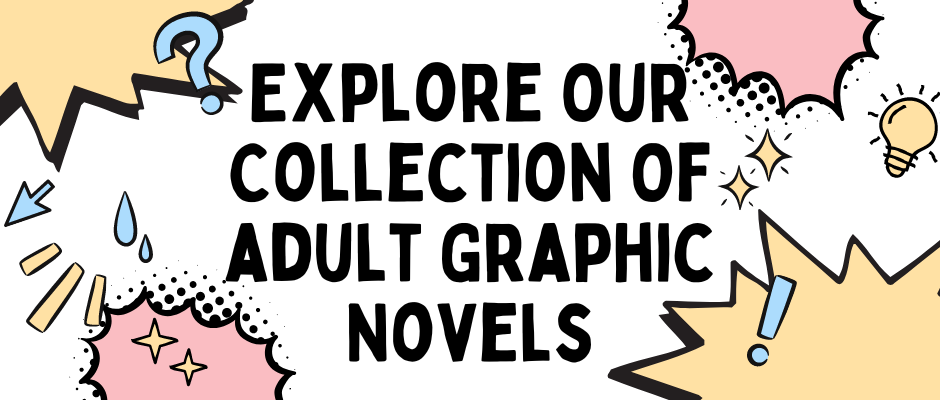 by Samantha Totman
If you've been to the Library recently, you may have noticed that our Adult Graphic Novels collection has moved! It's now located downstairs, along with our Adult Fiction collection. Whether you've loved graphic novels for a long time or are new to the format, here are a few recommendations from our Adult Graphic Novels collection to add to your list!
Classics Gone Graphic
Were there some classic novels you never read in high school English class? Graphic novelizations are a great way to quickly catch up on the classics.
Animal Farm by George Orwell; adapted by Odyr
Book
The Handmaid's Tale by Margaret Atwood; adapted by Renee Nault
Book
To Kill a Mockingbird by Harper Lee; adapted by Fred Fordham
Book
Heart of Darkness by Joseph Conrad; adapted by Peter Kuper
Book
Page to Screen
It seems like every book is turning into a movie or TV show these days, and graphic novels are no exception.
Locke & Key, Volume 1: Welcome to Lovecraft by Joe Hill and Gabriel Rodriguez
Book
Watchmen by Alan Moore
Book
The Walking Dead: Compendium One by Robert Kirkman
Book
The Complete Persepolis by Marjane Satrapi
Book
Sandman Volume 1: Preludes & Nocturnes by Neil Gaiman
Book
Critically Acclaimed
The American Library Association's Graphic Novels and Comics Round Table recently announced their 2022 Best Graphic Novels for Adults Reading List.
Ducks: Two Years in the Oil Sands by Kate Beaton
Book
Lore Olympus: Book One by Rachel Smythe
Book
The Night Eaters: She Eats the Night by Marjorie Liu and Sana Takeda
Book
Space Story by Fiona Ostby
Book
Fine: A Comic About Gender by Rhea Ewing
Book
It Won't Always Be Like This by Malaka Gharib
Book
SmahtGuy: The Life and Times of Barney Frank by Eric Orner
Book