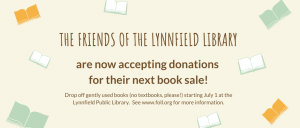 Accepting Donations
From the Friends of the Lynnfield Library:
Thank you for holding your donations for so long for us, get ready for July 1st! Please see the following for what donations we accept and where to drop them off:
Hardcover fiction
non-fiction
large fiction
non-fiction paperbacks
DVDs
graphic novels
all children and young adult materials
The Friends really appreciate your choosing us to receive quality used books and media materials. Please check that your donations do not have water damage, ripped or missing pages, mold, stains, or debris. Furthermore, keep in mind that there are a few items the Friends cannot accept including VHS tapes, small mass-market paperbacks, textbooks, encyclopedias, Reader's Digest Condensed collections, magazines, computer manuals, games or puzzles.\
Kindly bring your boxed or bagged donations to the Library Circulation Desk at the Lynnfield Public Library. It would be most helpful for the staff if you could use boxes or bags that you can leave at the library with your donations. Thank you!