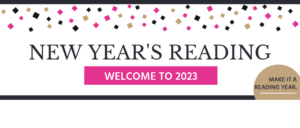 by Marita Klements
Are you making any New Year's resolutions?  Keeping the house tidy?  Breaking bad habits?  Exercise?  Why not treat yourself to a fun challenge in 2023?  Make it a reading year!
There are all sorts of ways you can challenge yourself to read in the new year.  You could try a new genre, like biographies, or manga.  If you spend a lot of time in your car you could download Hoopla or Libby to your smart phone or device and try listening to audiobooks.  Maybe you love true crime, but you're trying to read more with your kids.  No problem!  Try Curious cases: true crime for kids by Rebecca Valley.
There are lots of fun ways to track what you're reading.  You could create an account in the Lynnfield Library's Beanstack App and log books for your self and your family.  While you're there, register yourself for the Massachusetts Center for the Book challenge to get a book idea for every month, and sign your kids up for 1000 Books Before Kindergarten!
Some people like to track their reading in a notebook, or even a spreadsheet.  You can make a spreadsheet yourself, or make a copy of this cool one from Bookriot.com, where you can track your reading and participate in their annual Read Harder challenge.