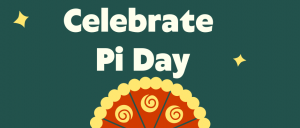 Pi(e) Day!
by Abby Porter, Acting Director
March 14 (3.14) is around the corner, so I thought it was time to bring back my book list of my favorite pie cookbooks! You can also watch this video for my tips on making the best pie crust, from Sister Pie. Will you be making pie for Pi(e) Day?
The Pie and Pastry Bible by Rose Levy Berenbaum – Rose Levy Berenbaum is the queen of pie!  Her instructions are clear, recipes are written in organized charts, and anything of hers you bake will turn out great, because she knows everything.
The Book on Pie by Erin Jeanne McDowell – This book is a new addition to the list, but has become my go-to. This book is full of creative ideas and mix-and-match tips to make your perfect pie. Plus, toasted pecan pie crust is my new favorite!
Pieometry by Lauren Ko – This book is stunning!  Personally, I'm not artistic enough to attempt these, but I love looking at the pictures and getting inspired.
Sister Pie by Lisa Ludwinski – This book is one of the cool kids in the list.  These recipes are spins on classics, like Honey Lemon, Apple Rose (with Beets!), and Toasted Marshmallow Butterscotch, but they are always delicious and fun additions to my Thanksgiving table. I do wish this book was a little clearer on measurements – I made way too many caramelized onions for squash and onion handpies – but everything comes out delicious.
The Four & Twenty Blackbirds Pie Book by Emily and Melissa Elsen – The other "cool kid" in my list (matcha cream pie is surprisingly delicious)!  I once went to Brooklyn to visit family for a three day weekend and went to this shop 4 times (I may have been pregnant at the time and I have no regrets).  I've never had better pie and their crust is so easy to make and delicious every time – cold, almost frozen butter is key!
Back in the Day Bakery Cookbook by Cheryl and Griffin Day – This bakery is on my bucket list!  Cheryl and Griffin Day's recipes is always delicious with Southern style.
Art of the Pie by Kate McDermott – I check this book out time and again because the recipes are so great and the savory pies make me think of the Great Britist Bake-Off.
Pies and Tarts by Kristina Petersen Migoya – I haven't gotten a chance to test this book out yet, but the cover alone has me drooling!  It's my next baking project.
Vegan Pie in the Sky by Isa Chandra Moskowitz – I would not have expected this book to be as good as it is (I mean, pie WITHOUT butter?!), but these recipes are absolutely delicious and perfect for making my vegan friends feel welcome and included.  You honestly don't even realize it's vegan!