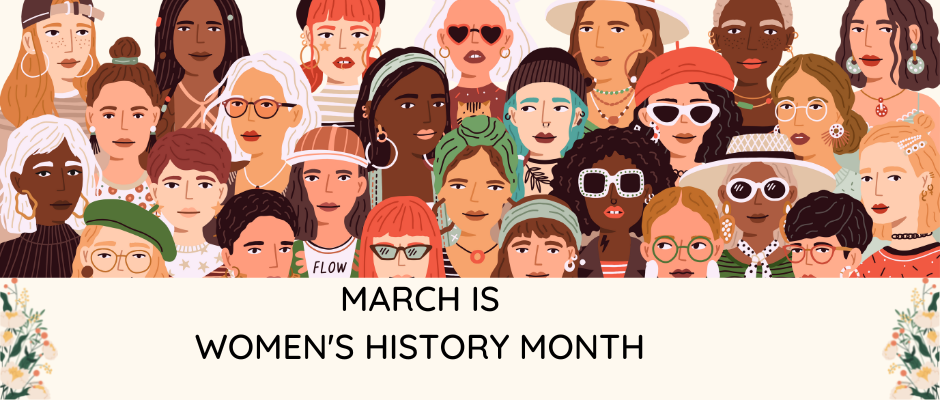 by Marita Klements
March is Women's History month!  Join us in celebrating, and learning about some amazing women in history by reading any of these great books.  As always, you can place holds on them by clicking the links below
The women of Rothschild: the untold story of the world's most famous dynasty by Natalie Livingstone
Marie Curie and her daughters : the private lives of science's first family by Shelley Emling
Until I am free : Fannie Lou Hamer's enduring message to America by Keisha N. Blain.
Book | eAudiobook | eBook
Great Women Painters by Alison M. Gingeras
Formidable : American women and the fight for equality: 1920-2020 
by Elisabeth Griffith
Mr. President, how long must we wait? : Alice Paul, Woodrow Wilson, and the fight for the right to vote
By Tina Cassidy
Book | eAudiobook | eBook
Our shoes, our selves : 40 women, 40 stories, 40 pairs of shoes 
by Bridget Moynahan & Amanda Benchley ; photography by Melanie Dunea.
Notorious RBG : the life and times of Ruth Bader Ginsburg
by Irin Carmon & Shana Knizhnik.
The witches : Salem, 1692
By Stacy Schiff
Book | eBook| eAudiobook | Large Print
Unwell women : misdiagnosis and myth in a man-made world 
by Elinor Cleghorn
Well-read black girl : finding our stories, discovering ourselves : an anthology 
edited by Glory Edim
Fly girls : how five daring women defied all odds and made aviation history 
by Keith O'Brien.
Book | eBook | eAudiobook
She Said: Breaking the Sexual Harassment Story That Helped Ignite a Movement by Jodi Kantor
Book | eBook | eAudiobook
The Secret History of Home Economics: How Trailblazing Women Harnessed the Power of Home and Changed the Way We Live by Danielle Dreilinger
Book | eAudiobook | eBook
Children's Books
US Women's National Team : soccer champions 
by Jeff Savage.
One wish : Fatima al-Fihri and the world's oldest university 
written by M. O. Yuksel ; illustrated by Mariam Quraishi.
I am Marie Curie 
by Brad Meltzer ; illustrated by Christopher Eliopoulos.
Good night stories for rebel girls : 100 tales of extraordinary women 
By Elena Favilli and Francesca Cavallo
She persisted : 13 American women who changed the world 
written by Chelsea Clinton ; illustrated by Alexandra Boiger.
Opal Lee and what it means to be free : the true story of the grandmother of Juneteenth 
by Alice Faye Duncan ; illustrations by Keturah A Bobo.
Founding mothers : remembering the ladies 
by Cokie Roberts ; illustrated by Diane Goode.