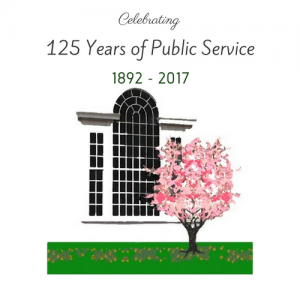 The Lynnfield Public Library is turning 125 on July 22, 2017!
The Lynnfield Public Library has a rich history of providing excellent library service. Along with the progression and growth of the Town, the library has expanded, adding more services and collections. In 1892, the collection consisted of 554 books. Today the library has 73,000 items in the collection. We have an average of 300 individuals use the library each day and our programming attendance continues to increase, with attendance of 11,000 at programs over the last 12 months, compared to an attendance of 3,500 at programs in 2000.
At our birthday celebration on Saturday, July 22, we celebrate our past, present, and future.
In homage to this momentous milestone, we will have special events beginning on July 17 through the end of 2017.
Click on the link below for a slideshow presentation of Lynnfield Library's history
Antiques in the Attic Appraisal Day

We're kicking off our 125th Birthday celebration with an "Antiques in the Attic" Appraisal Day on Monday, July 17 from 2-7 pm at the Meeting House on the Common.

Bring in your family treasures, inherited heirlooms, or flea market finds, and get a verbal auction estimate from one of the expert appraisers of Skinner Auctions & Appraisals.  During your consultation, the appraiser will discuss issues of age and condition and provide an estimated value based on current market prices for a similar example.  Participants will receive verbal information and an auction estimate, no written appraisals can be provided.

For services of china or silver, one example of each piece in a set accompanied by a list of the total number of pieces will serve to represent the entire set.  Additionally, it is recommended that good quality photos be substituted for large or particularly fragile items.

Support the Friends of the Lynnfield Library with your $10 donation to get an item appraised. ($10/item, limit 3 items per person)

Tickets must be purchased in advance as there are a limited number of timeslots (120) available for appraisal.  Reservations must be made in person, so please stop by the Lynnfield Library to buy your ticket (cash or check) and reserve a time slot to come in for your appraisal.  Checks payable to Friends of the Lynnfield Library.

Meet the Appraisers :


125th Birthday Party

SAVE THE DATE: Saturday, July 22, 2017 @ 10:00 a.m.

We'll be having a big birthday bash on the 125th anniversary of the Library's opening.

Join us for crafts, cake, a live music performance by the Blue Notes (a smaller group of the R & R 2000 Band), announcements, a raffle, and an update on the Building Project.

Everyone is invited – no RSVP needed!

Memories

Do you have a favorite Lynnfield Library memory?

Share your stories and photos with us on Facebook and Instagram.  Be sure to use #LynnfieldLib125 and tag us in your post.

If you have a library photo you want to share that is not digital (already on the computer) bring it into the library and we can help scan it for posting.